The Division of Neurosurgery is actively involved in teaching and education of both the undergraduate and postgraduate medical education. We have been involved in post graduate Neurosurgical training and Neurosurgical Fellowship training since 2003. The UM Masters of Neurosurgery program was started in 2019 and is currently one of two Neurosurgical training programs in Malaysia. We have also organised the FRCS International (Neurosurgery) exams on behalf of the Royal Colleges of Surgeons, UK for the past 2 years.
We are committed in providing continuous medical education by organizing courses, workshop and lectures at various level of higher education as well as for the public. Undergraduates teaching focuses on fundamental neurological examination techniques to establish a good foundation for young doctors. Postgraduates teaching on the other hand focuses on decision making thought process and higher surgical techniques to ensure a high standard of care in neurosurgical practice.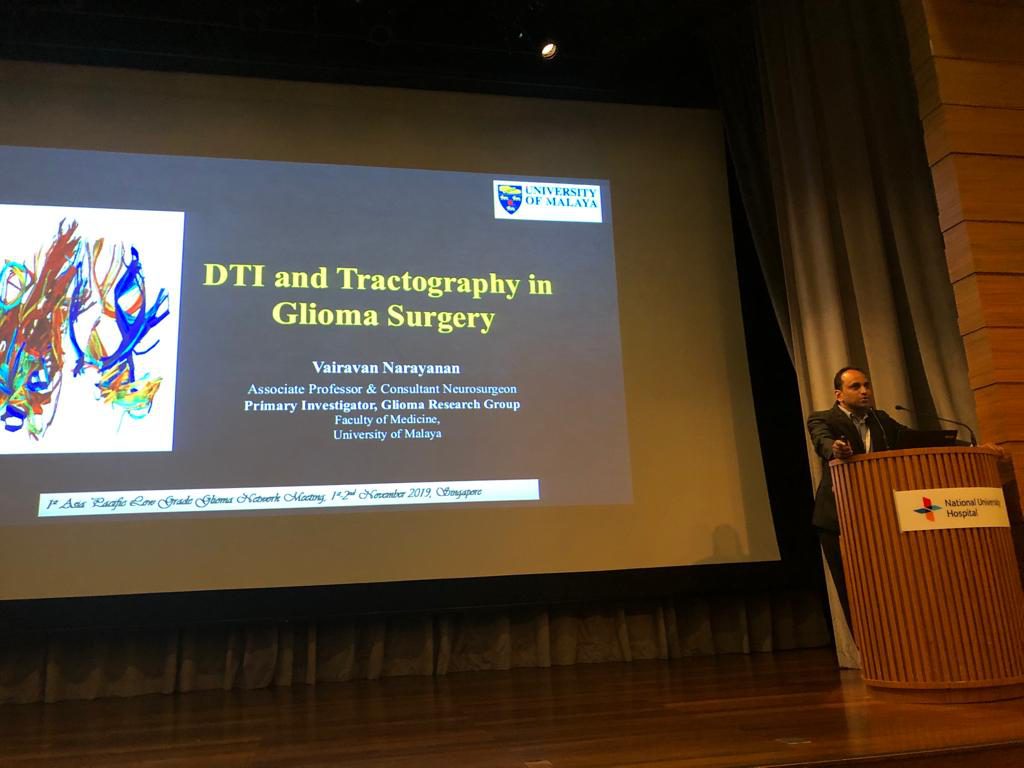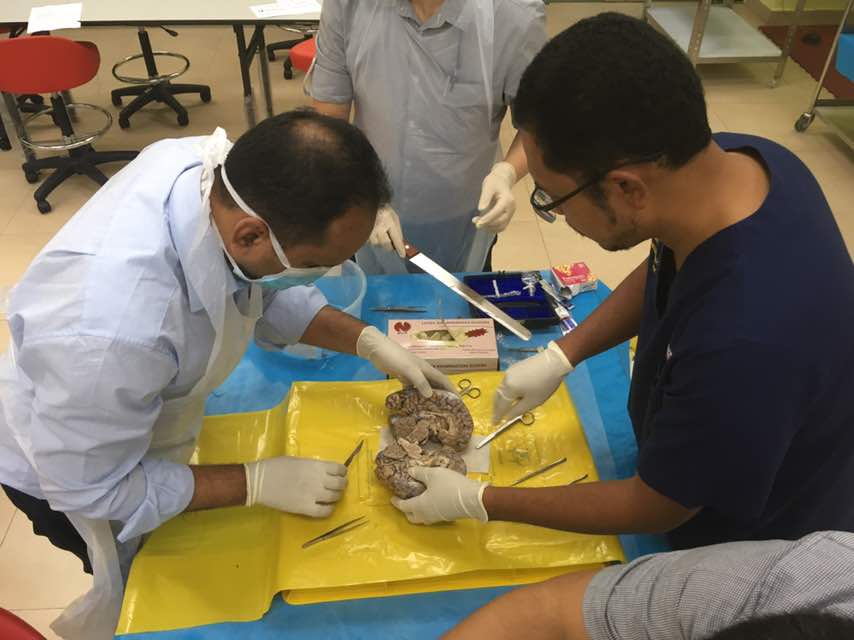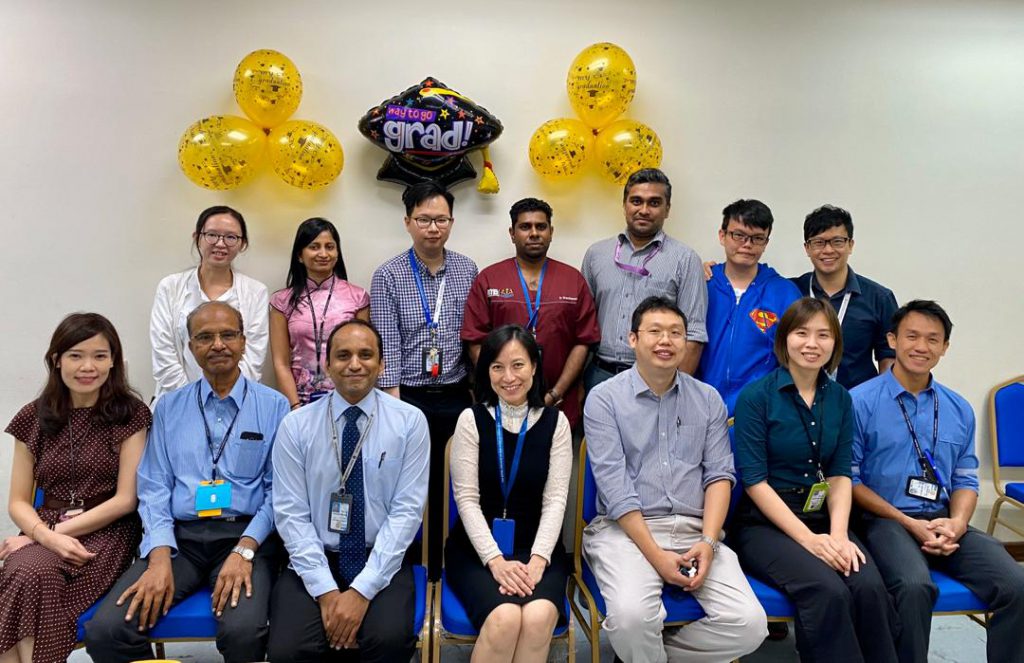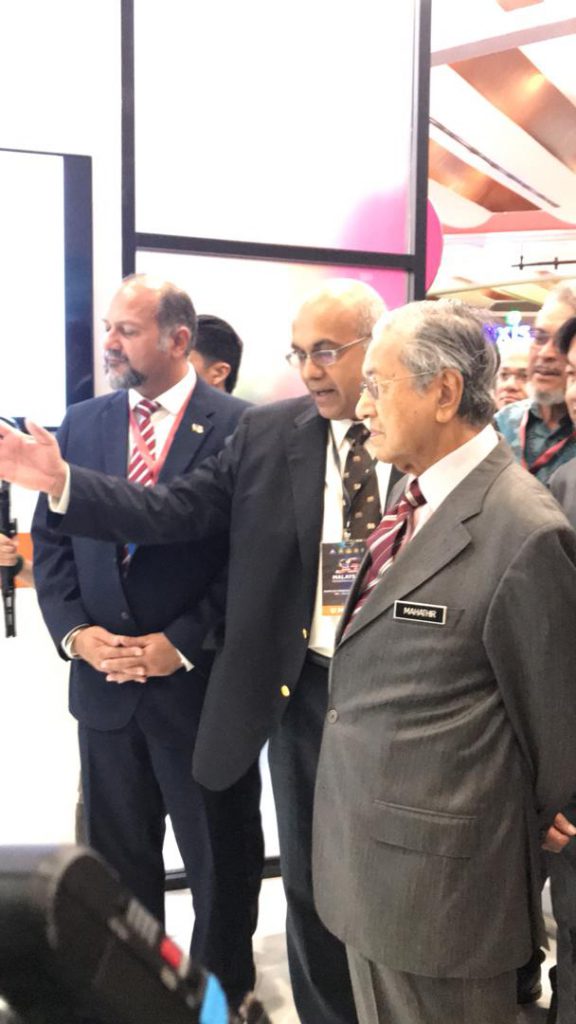 Clinical examination is an important component in making diagnosis. A series of standard examination techniques were produced by neuroscience consultants to ensure proper knowledged are passed to the new generation of doctors.
A strong partnership between patients and doctors is the key to a successful treatment and we would like to thank all our patients for this continous support and trust. We would like to continue improving your health and to train the nation's future neurosurgeons with all our acquired wealth of knowledge and skills.
We are committed to provide the best clinical practice available to our patients and this aspiration places us as the primary mover in research for treat life threathening disorders. We appreciates the contributions of our patients and collaborators within the nation as well as around the world.
Clinical Examination Techniques
Cranial Nerves Examination Techniques
Cerebellar Examination Technique
Extrapyramidal Examination Technique
Upper Limbs Examination Technique
Lower Limbs Examination Technique
Endoscopic Third Venticulostomy
This operation was performed by Dr Nor Faizal Bin Ahmad Bahuri on a 1-year-old child with congenital hydrocephalus. This technique is the first choice treatment of hydrocephalus in children. The operation allows passage of cerebral spinal fluid through a channel created on the floor of the third ventricle and ETV will free the child from having an external device to divert excessive CSF in the brain. This operation can be performed in adult patients as well.
FAQs: Epilepsy Surgery
WHAT IS EPILEPSY? Epilepsy is a condition where the brain produces abnormal electrical activity. The physical manifestation of epilepsy varies, and it is based on the affected area of the brain. You could have a temporary loss of consciousness, an abnormal limbs movements or just having an auditory or visual disturbance. HOW IS EPILEPSY TREATED? Your epilepsy can be controlled with medications. However, some patients' symptoms may not be controlled with the maximum dose of drugs. WHAT WILL HAPPEN TO ME IF MY EPILEPSY CANNOT BE CONTROLLED? Up to 40% epilepsy patients developed uncontrolled epilepsy. A quarter of this population is suitable for epilepsy surgery. A long standing uncontrolled epilepsy may cause irreversible damage to your brain. WHAT TREATMENT OPTIONS DO I HAVE FOR UNCONTROLLED EPILEPSY? You could talk to your neurologist to optimise your medication types and dosages. Some paediatric patients reported success after modifying their diet. Another option which could be beneficial to you is surgical treatment such as functional neurosurgery and brain resection. WHAT IS EPILEPSY SURGERY? Epilepsy surgery, in a nutshell, is interrupting the abnormal electrical pathways by lesioning or removing parts of the brain which causes epilepsy. IS EPILEPSY SURGERY SAFE? Epilepsy surgery is safe. The mortality (chance of dying during or because of surgery) is less than 1%. In contrast, the likelihood of a patient to die because of uncontrolled epilepsy without adequate treatment is more than 1%. The morbidity (side effect of surgery) is between 3 to 8%. The severity of the side effect depends on the location of the epileptic focus and the extent of the surgery. Our neurosurgeons are willing to discuss this with you during clinic consultation. IS EPILEPSY SURGERY EFFECTIVE? An excellent surgical resection of an epileptic focus can provide 70 to 90% of seizure control. This result is evident in cases of mesial temporal sclerosis. On the other hand, non-structural brain lesion resection can provide up to 50% success rate. Talk to your neurosurgeons to find out more. IS EPILEPSY SURGERY FOR ME? Epilepsy surgery is a major procedure. It is in the best interest of the patient that this operation is performed in a highly specialised epilepsy center. University of Malaya Medical Center offers comprehensive qualified epilepsy neurosurgeons, epileptologist, neuroradiologist and neurophysiologist among others. Thorough investigations and evaluations are utmost necessary to evaluate your epilepsy. An identifiable focus of epilepsy helps the doctors to plan for your surgery. This assessment process will take up to 3 months. We understood your concern. However, we would like to offer you and your family the best benefits with the least risks when you undergo your epilepsy surgery. Talk you your neurologist today and consult us in our out-patient clinics. HOW LONG DO I HAVE TO STAY IN THE HOSPITAL? After an evaluation by the Epilepsy Surgery Multidisciplinary Team and your agreement for surgery, you will be admitted one day before the operation. There will be a group of patients who will require an invasive epilepsy evaluation. If you belong to this group, you will stay about two weeks in the hospital and undergo two surgeries. The first surgery is for cortical electrography and the second for epileptic focus resection. On the other hand, like most of our epilepsy patient, you will probably say about a week in the hospital if this is a straight forward resection. WILL I BE FREE FROM EPILEPSY AFTER THE SURGERY? An excellent surgical resection of an epileptic focus can provide 70 to 90% of seizure control. The reduction of seizure attacks and the reduced disability are the commonest improvement reported by our patients immediately after surgery. DO I STILL NEED TO TAKE MY MEDICATION AFTER MY SURGERY? You will still need to take your anti-epileptic medication after the surgery. Your neurologist will continue monitoring your clinical improvement. The dosages may be adjusted and reduced based on your symptoms.