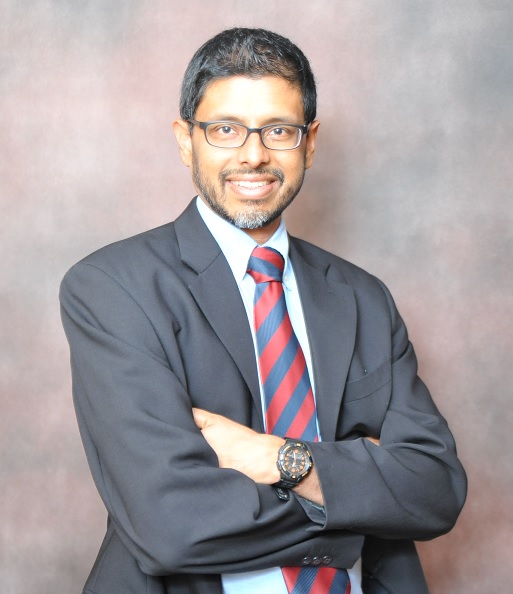 A conscientious, reliable and hardworking neurosurgeon. Professor Dharmendra Ganesan, known for his eye for detail, is a Senior Consultant Neurosurgeon as well as the Head of Neurosurgery Services and also the Chairman of the Paediatric Neurosurgical Services at University Malaya Medical Centre
Professor Dr. Dharmendra Ganesan is a 1995 MBBS graduate of the Faculty of Medicine, University Malaya. After obtaining the FRCS (Edinburgh) August 2001 and (Ireland) September 2001, as well as completing his Masters in Surgery at University Malaya in 2002, he began his neurosurgical training in the Division of Neurosurgery at University of Malaya Medical Centre and went on to complete his clinical training in Adddenbrooke's Hospital, Cambridge, United Kingdom whilst working as a registrar and training with reputable names in the field of Neurosurgery. He passed the intercollegiate exam in United Kingdom and obtained an FRCS in Neurosurgery in June 2006.
He continued to sub-specialize in Complex Spine, pursuing a fellowship at Addenbrookes in Cambridge and completing the Cleveland Spine Review course.
His field of subspecialty is Paediatric neurosurgery, which he completed as a visiting fellowship in several hospitals of good standing, namely, Great Ormond Street in London, Necker Enfant Malades in Paris and Montefiore Children's Hospital in New York. He has also completed the European post graduate and Asian Australasian advanced course in Paediatric neurosurgery. He is a member of the International Society of Paediatric Neurosurgery (ISPN).
His current clinical practice involves all general neurosurgical cases whilst his areas of expertise focus on complex spinal problems and Paediatric neurosurgical cases.  Being amongst the few Paediatric Neurosurgeons in Malaysia, he sees patients from near and far involving newborns, infants and toddlers all the way up to 18 year old teenagers.
Professor Dharmendra is just as much an avid writer and has published several clinical papers based on interesting researches in reputable journals such as Journal of Neurosurgery, British Journal of Neurosurgery, Child Nervous System, Journal of Spine, Lancet, Neurology Asia and others. He also conducts research at University of Malaya pertaining genomics and its relationship to traumatic brain injury. He has presented in many local and international scientific meetings. He is the currently the Treasurer of the Neurosurgical Association of Malaysia (NAM) and member of Academy of Medicine of Malaysia. He is also a fellow of the Royal College of Surgeon of Edinburgh and Royal College of Surgeons in Ireland. He has been elected to be in the Clinical Quality Assurance committee of UMMC and spends the little time he has left teaching and training under and postgraduate students of the Medical Faculty at the University Malaya.
PUBLICATIONS
"Melioidosis presenting as spinal epidural abscess" Ganesan D, SD Puthucheary   and V.Waran; British Journal of Neurosurgery; December 2003; vol. 17, No.6: 568-571. (ISI)
 "Stent placement for management of  a small parasagittal meningioma – Technical note"  Dharmendra Ganesan, J. Nicholas P. Higgins, Timothy Harrower, Neil G. Burnet, Nicholas J. C. Sarkies, Mark Manford, John D. Pickard, Journal of Neurosurgery , February 2008: vol. 108 , No. 2: 377 – 381 (ISI)
 "Prospective study of outcomes in lumbar discectomy" MR Guilfoyle, D Ganesan, H Seeley, RJ Laing;  British Journal of Neurosurgery;  August 2007; 21(4):389-95 (ISI)
"A second biopsy? – tandem lesion"  D Ganesan, AF Dean, N Antoun, RW Kirollos;  Acta Neurochir (Wien), 2008 May; 150(5):501-3; discussion 503. Epub 2008 Mar 26. (ISI)
"Evolution of tonsillar ectopia associated with frontal encephalocoele" Dharmendra Ganesan MS FRCS(SN), Richard D Hayward FRCS, Dominic N Thompson FRCS(SN); Child's Nervous System, Epub 2009 Feb 24; June 2009, 25(7): 889-893 (ISI)
"Randomised controlled trial of the use of drains versus no drains after burr hole evacuation of chronic subdural haematoma" Thomas Santarius, Peter J Kirkpatrick, Dharmendra Ganesan, Hui Ling Chia, Ibrahim Jalloh, Peter Smielewski, Hugh K Richards, Hani Marcus, Richard A Parker, Stephen J Price, Ramez W Kirollos, Peter J Hutchinson;  The LANCET, Sep 26, 2009, vol. 374, No. 9695: 1067-1073 (ISI)
"Ossified lumbar pseudomeningocele : imaging findings"  Al-Edrus SA, Mohamed Mukari SA, Ganesan D, Ramli N,Spine J. 2011 Jul 1 (ISI)
"Video clip transfer of radiological images using a mobile telephone in emergency neurosurgical consultations (3G Multi-Media Messaging Service)" Waran V, Bahuri NF, Narayanan V, Ganesan D, Kadir KA. Br J Neurosurg. 2011 Oct 4 (ISI)
"Neonatal post haemorrhagic hydrocephalus resulting in foraminal septae – radiological technique and surgical implications"  F Fadzli, NM Ramli, K Rahmat, D Ganesan, Child Nervous System,  2013 Jan;29(1):159-62. doi: 10.1007/s00381-012-1923-5. Epub 2012 Sep 21. (ISI)
"Calcified pseudomeningocoele of lumbar spine – a review" SF Narverud, NF Ramli, H Chandran, D Ganesan. European Spine Journal, 2012 Dec 12. [Epub ahead of print] (ISI)
"Single nucleotide polymorphisms in the promoter of the Apolipoprotein E gene in different ethnic groups in Malaysia: Prevalence study and literature review" – Poovindran A. R., Ganesan D. Ramahsamay N, Wong K. T; Neurology Asia, Dec 2012, vol 17, issue4, pg. 341-346 (ISI) 
Multicompartmental congenital intracranial immature teratoma. D Ganesan,KS Mun, Sia SF, N Vairavan, Gnana Kumar, Lucy Lum, Lucy Chan, MunKS, V Waran; Neurology Asia, vol 18, issue 1, pg 5, 2013 (ISI)
"Concomitant injuries and its influence on functional outcome after traumatic brain injury" – M Mazlan, BK Leong, D Ganesan, R Begum; Disability and Rehabilitation 2013 Jan 7. [Epub ahead of print] (ISI)
"Cognitive impairments in mild traumatic brain injury and genetic polymorphism of apolipoprotein E: A preliminary study in a Level I trauma center"  V Veeramuthu, D Pancharatnam, AR Poovindran, NA Musthapha, WK Thong, M Mazlan, V Waran, D Ganesan, Neurology Asia, 2014 March, Volume 19 (1)(ISI)
"A rare orbital complication of eye exodeviation with limited abduction during monobloc Le Fort III distraction osteogenesis" –  Firdaus Hariri, Lim Kwong Cheung, ZAA Rahman, SN Ramasamy, D Ganesan, The Cleft Palate-Craniofacial Journal , July 2014(ISI)
"A minimally invasive endoscopic transnasal approach to the craniovertebral junction in the paediatric population"  Tan Sien Hui, Dharmendra Ganesan, Prepageran Narayanan, Vicknes Waran, European Archives of Oto-Rhino-Laryngology and Head & Neck DOI 10.1.1007/s00405-014-3149-5 July 2014 (ISI)